About Tankless Water Heaters
What Are
Tankless Water

Heaters?
If you're trying to choose which tankless water heater is right for your home, then you're in the perfect spot. At Hedlund Plumbing, we pride ourselves on being the authority when it comes to water heaters. From simple repairs to full-blown replacements, we have you covered. At Hedlund Plumbing, we've found that Navien is the #1 brand in North America. Navien keeps your energy bills low, the hot water flowing, and is the trusted name for tankless water heaters.
Our company regularly earns 5-star reviews from our customers, and we've even received an A+ rating from the Better Business Bureau. So, what are you waiting for? Contact us for help with your Lansing tankless water heaters today!
Before we get into our services for this new type of water heaters, we figured it would be a good idea to explain what they are and a bit about how they work. They operate in nearly the exact same fashion but with one major difference, they're literally tankless and don't store hot water in a tank. Instead, they operate on an on-demand and instantaneous basis. In other words, with one of these fired up at your home, you will never have to wait for your shower to warm up again!
We prefer Navien because of its premium energy efficiency, the simplicity of the unit, and the high-powered technology that keeps your hot water supply going, even when there are a lot of things going on in your household.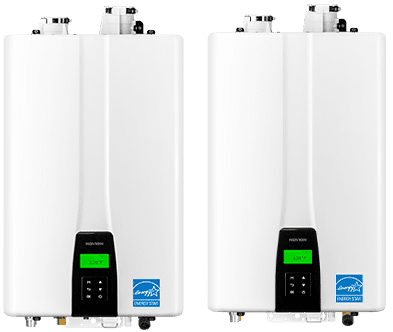 Tankless Water Heater Repair
Need a
tankless

water heater

repaired

?
However, the majority of homeowners don't know when to contact the professionals for help. So, to help mitigate that problem, our plumbers compiled a list of typical issues to watch out for. If you start to notice any of the following  problems, then contact us for a repair, right away:
Mineral buildup
 Your unit displays an "Air Supply" or "Exhaust Blockage" message.
Your unit displays a "No Ignition" message.
You get a "Flame Failure" message from your system.
No hot water
Rusty or foul-tasting hot water